Oh, how I wish I'd had someone to steer me in the right direction with my blog from the start.  Someone to tell me what shiny objects are worth the investment and which aren't.  I had to figure it all out in time and eventually get on the right track with my blog.  But I'm here for you!
In this post, I'll introduce you to my top 5 picks for the best products and courses to boost your new blog.
You don't need to spend a lot of money for great resources and tools.  Don't let anybody tell you that you do.  If you haven't started your blog yet, I would start off right with these tools below.  If you have already started your blog, switching email automation services and web hosting services can be super easy.  The sooner you switch to quality, effective tools and resources, the better.
So let's get started!
(This post contains affiliate links for your convenience.  See my full disclosure policy here.)
… is, in my opinion, the best web hosting for a new blog.  If you want to succeed, you need to start off on the right foot, and that means having reliable, fast hosting service with no interruptions or downtime.
I wish I had known this when I first started, as it would have saved me time, energy, and leads.  It also would have saved me heartache.  There's nothing worse than having your site down for an indefinite period of time.
I love SiteGround because it was so easy to switch from my previous host and I've had nothing but a faster site and NO downtime.  If you are with another host, you may want to visit Battle of the Best– Bluehost and SiteGround Comparison for more details about my experience with them.  And if you haven't started your blog yet, you can visit How to Start a Blog the Easy Way to see exactly how easy it is to get started with them.
Here are some real quick benefits of hosting with SiteGround:
Hosting for as low as $3.95 a month
Superior customer service
One click installer and free transfer
Before I took this course, my traffic was a third of what it is today.  My email list was smaller.  My connections list was smaller.  My blog was struggling.  But with the help of FYTO, I tripled my traffic literally overnight!
This course covers all you need to find your target audience for your blog.  From Facebook groups to guest posting, it's got it all.  In addition to the spreadsheet with 400+ Facebook groups, Pinterest group boards, and bloggers in your niche, you will get a complete marketing plan to show you exactly how to implement the lessons in the course.
I've invested in a couple of very expensive and popular courses, but the practicality and quick wins of FYTO have made it my go-to course.  I've now taken it twice and plan to go through it again at the end of the year.  You do NOT need to spend a lot of money to access a fantastic course that will help to propel and boost your new blog.  Please visit How to Quickly Triple Your Traffic and Grow Your Blog.
So I may be a little bit biased on this one, but I really do think that this freebie is a great resource for getting traffic to your blog.  You'll get 12 pages detailing 51 winning traffic ideas that you can implement right away for your blog.  In this report, I've given you not only ideas for traffic but a huge resource that you can come back to and work your way through over time.  And best of all, it's free!
By implementing one tip at a time and implementing the ideas and tips in the report, you will be certain to increase your traffic.
Visit this link to claim your free copy of 51 Winning Website Traffic Ideas and start boosting traffic to your blog right away.
You're welcome.
This is a WordPress plugin that helps you to create beautiful and effective lead boxes and landing pages.  I use both Thrive Leads and Thrive Landing Pages on Life Unplanned and love the results I've seen in the past year.
Thrive Leads makes it super easy to capture your reader's email address so that you can add them to your email list.  You can use different lead boxes on different pages, depending on what your post is about and which audience segment you are trying to reach.  You can do split testing, create templates, and more.
With Thrive Landing Pages you can create stunning pages for your opt-in or product.  The plug in is easy to use and has a drag and drop feature to make it even more simple.
If you want to boost your new blog, you must start to build your email list, and this is the perfect way to do that.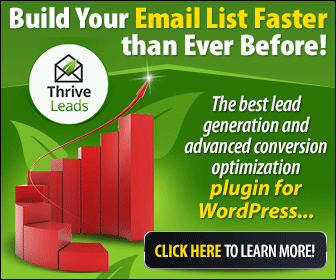 Okay, don't get me started.  I love Active Campaign for so many reasons, but mostly because of the ease of automation.  I am able to create amazing funnels and e-courses for my people.  I also email them bi-weekly and have found some of the tools available in Active Campaign simply brilliant.
For example, you can split test your email title.  With the click of a button, you can test one email subject line with another.  Then AC will automatically use the winner to reach more of your audience.  Say what?!
Another thing I love about Active Campaign is that you can add tags and segment your list.  You would use this feature if you want to email only a certain segment of your list.  You wouldn't want to send recipes to people only interested in your blogging strategies, would you?  This tool makes it possible to keep everyone on your list happy and receiving the content they want.
Are you on my email list?  You can sign up quickly and easily by picking up your copy of 51 Winning Website Traffic Ideas mentioned above 😉
BOOST YOUR NEW BLOG
So now that you've been introduced to my fave resources, what are you going to do?  I say, get the party started and incorporate some of these into your blog and business plan.  You won't go wrong and I know that you'll be pleased with the results!
Please let me know which resource you are going to start with.  I'd love to hear your thoughts!